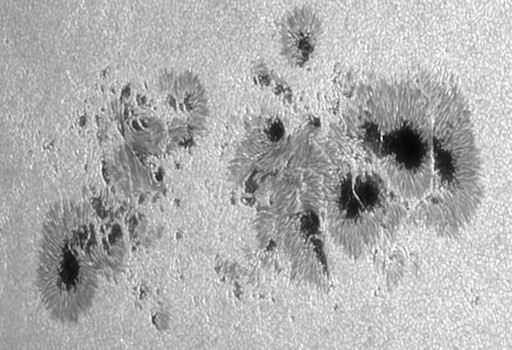 Foto genomen van zonnevlek AR1339 door Eric Roel gemaakt op 4 november 2011.
Dit is een van de grootste zonnevlekken in jaren
David Bearman
hield tijdens CITRA een lezing over "
Under-appreciated Threats to the Long-term Preservation of Electronic Archival Records
" (
dia's
,
verslagje
).
Uiteraard staan er een paar interessante one-liners in de presentatie:
Non-records don't become records by keeping them
If all records aren't captured, what is captured is suspect
If capture, use and appraisal metadata doesn't persist for all records, retained records are suspect
Maar Bearman bespreekt ook een buitenaardse bedreiging, Electro-Magnetic Pulse (EMP), waarbij hij verwees naar het zogenaamde
Carrington event
: de grootste zonnestorm die tot nu toe is vastgelegd.
Deze "geomagnetic storm" vond plaats op 1 en 2 september 1859 en veroorzaakte poollicht dat zo fel was dat "people in the northeastern U.S. could read newspaper print just from the light of the aurora."
Maar dat is nog tot daar aan toe:
Telegraph systems all over Europe and North America failed, in some cases even shocking telegraph operators. Telegraph pylons threw sparks and telegraph paper spontaneously caught fire. Some telegraph systems appeared to continue to send and receive messages despite having been disconnected from their power supplies.
Begin dit jaar
beschreef National Geographic
wat de gevolgen zouden zijn als er nu weer een vergelijkbare electro-magnetische storm de aarde zou treffen:
Of particular concern are disruptions to global positioning systems (GPS), which have become ubiquitous in cell phones, airplanes, and automobiles, Baker said. A $13 billion business in 2003, the GPS industry is predicted to grow to nearly $1 trillion by 2017.
In addition, Baker said, satellite communications—also essential to many daily activities—would be at risk from solar storms.
"Every time you purchase a gallon of gas with your credit card, that's a satellite transaction," he said.
But the big fear is what might happen to the electrical grid, since power surges caused by solar particles could blow out giant transformers. Such transformers can take a long time to replace, especially if hundreds are destroyed at once, said Baker, who is a co-author of a National Research Council report on solar-storm risks.
In zo'n geval zijn digitale archieven natuurlijk niet het belangrijkste waar aangedacht moet worden, maar wat in het National Geographic-artikel niet staat: electro-magnetische opslagmedia, zoals harde schijven en tapes, kunnen niet zo goed tegen dat soort electro-magnetische pulsen. Als er geen speciale maatregelen genomen zijn, zal, zodra er weer stroom is om de computers te bedienen, blijken dat die schijven en tapes volledig gewist zijn.
Gelukkig hebben we het papier nog...
Gerelateerd
Als je niet van redundantie houdt, kun je nu naar huis
Een bibliotheek om de beschaving te reconstrueren
Plaatje:
Spaceweather.com
Vanuit deze zonnevlekken ontstaan de zonnestormen.